A kitchen backsplash goes beyond protecting your walls from liquids. It's also a design statement that can redefine your kitchen space to reflect your personality and style.  From sophisticated modern to chic vintage, the array of kitchen backsplash ideas will blow your mind.
To narrow it down to the best, we've compiled 10 top kitchen backsplash ideas that will make your cooking space stand out and be the envy of your foodie friends and family.
1. Floor to ceiling, or window backsplashes 
One of the best kitchen backsplash ideas is to take the panel all the way up to the ceiling height in areas where you don't have cabinetry. Today, people are moving away from wall cabinetry and opting for floating shelves and windows instead, which opens up more room. Running the panel from floor to ceiling gives the impression of height and space, especially when you choose reflective tiles. The illusion of space makes this a great choice for remodeling smaller kitchens.
Window backsplashes are a creative way to let more natural light into the room, making the kitchen look spacious and more welcoming. This type of backsplash will also provide amazing views of your courtyard or private garden.  When considering this idea, you can either have a window replace your traditional backsplash or add a window to the existing one.
2. Wood 
Wood is timeless and can create an amazing look whether you prefer a modern or rustic style. But it's expensive and wears more easily. You can use laminate materials to create decorative patterns, or combine them with traditional tiled backsplashes to accentuate your kitchen design. Some of the advantages of laminate are its easy installation and variety of colors. Beadboard, a great alternative to tile, is inexpensive, easy to install, and can deliver exceptional results both when painted and raw.
3. Brick
A brick backsplash for the kitchen is practical to shield walls from spills and splatters. Brick can blend with a wide range of design themes. Whether you like contemporary or want to recreate a rustic feel, brick veneer delivers a unique look that will not fade. Brick backsplashes are easy to install and the thin materials make it easy to cut around receptacles and outlets for perfect finishing touches. When you want to add warmth and lovely textures to your space, consider installing a brick backsplash.
4. Ceramic or porcelain tile
When looking for inspiring backsplash tile ideas, consider ceramic and porcelain. They're both versatile, so you can make your modern kitchen backsplash into whatever you want it to be. Mix and match bold colors to create a tile-like appearance or mimic the more natural stone look. Large subway tiles are perfect for a classic design and the impression of more space, while 3D subway tiles add luxury and texture. If you're considering DIY, learn more about the best ways to set tiles for the perfect backsplash.
5. Mirrored and metallic finishes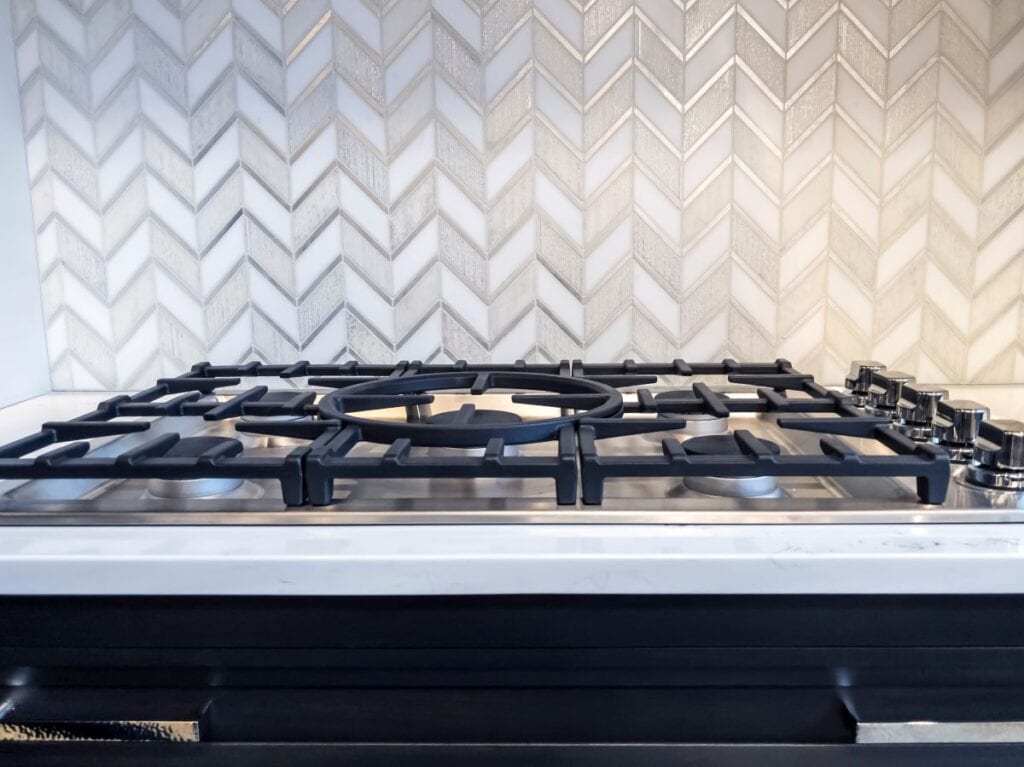 Mirrored and metallic finishes are highly versatile kitchen backsplash ideas. The reflective surfaces brighten up your space as natural light bounces off metallics and onto your countertops. Add some whimsy by creating your own custom pattern. When you want a modern kitchen backsplash, metallics deliver a playful yet sleek, eye-catching look.
6. Manufactured stone veneer
Manufactured stone veneer adds organic flair to a modern kitchen, fostering a solid, well-built feel. Using stone as backsplash for kitchen inspiration is a premium look that adds value to your kitchen. Compared to real stone, this man-made product is easier to cut and install. Available in different colors, shapes, textures, and styles, stone is a versatile material ideal for a variety of projects that can still make a space feel custom. Manufactured stone is a low-cost alternative to natural stone because it's made from natural stone byproducts, and is lighter and easier to handle.
7. Add a touch of contrasting color using paint or tile
Contrasting color is one of the simplest and most cost-effective kitchen backsplash ideas. Rather than defaulting to the neutral backsplash colors that most people are used to, experiment with new colors to introduce personal style. You can combine two or more colors and then scatter a third color throughout for interest. When using contrast in the panel, your options include installing high-contrast tiles, layering different textures, picking natural materials for the backsplash, or simply adding a coat of bold accent color against a neutral backdrop.  Regardless of the option you choose, using backsplash contrast will make your cooking space stand out.
8. Artistic backdrops 
Patterned tiles add fun to a kitchen and help your home stand out as unique. There are countless designs out there, but choose bright and bold patterns that complement your kitchen cabinets and other appliances to make a statement. Besides neat repeating patterns, you can use art to create the visual pop you want. Try using framed art, buttons, baskets, and wine corks. Placing a photograph of your family and friends as a backsplash is another fun way to personalize your cooking space.
9. Marble slabs instead of individual pieces
Large slabs of marble or granite deliver a custom look and make a gorgeous statement in a cooking space. This luxurious stone is a valuable finish to any kitchen. Unlike smaller tiles grouted together, slabs create the illusion of more space and show off kitchens in their best light. Large slabs work well in spacious kitchens. As countertops, they create a bold, luxe look that regular tiles cannot match.
10. Wallpaper 
Installing a wallpaper backlash is one of the easiest ways to transform your kitchen. Apart from giving you endless design and pattern choices to suit your style, washable wallpaper is easy to maintain. Modern wallpaper is also affordable and easily removable, so you can easily change the look of your cooking space.
Finally, make sure the backsplash design you choose complements your interior decor and the overall style and vibe of your home. If you have an antique kitchen, a wood backsplash would be a perfect pairing. If your home is modern, go with sleek quartz or Caesar stone. And marble is always a classic in just about any kitchen.