Nothing beats being able to exercise at your convenience – and in the comfort and privacy of your own home.  No driving in traffic, showering with strangers, being too hot or too cold, or wondering if the exercise equipment has been recently disinfected.  Even if you're not an exercise buff, designing your own gym allows you to create the type of space that is conducive to working out. Below, you'll find design inspiration and tips to help you design a home gym that beckons you to work out.
"Compared with the cost of a gym membership or personal trainer, creating a home gym can pay for itself in no time," according to Dan DiClerico, home expert and smart home strategist at HomeAdvisor.
And Wi-Fi-connected exercise equipment has increased the popularity of home gyms, he explains. "For example, a smart exercise bike with an interactive display makes it possible to join your favorite spin class without leaving the house."
However, if you're planning to install Wi-Fi-connected exercise equipment, he says it's important to make sure there's a good internet connection in the workout area. "That might mean installing additional wireless access points or range extenders to ensure fast internet speed. Otherwise, the weak signal could really slow down your workout."
Space considerations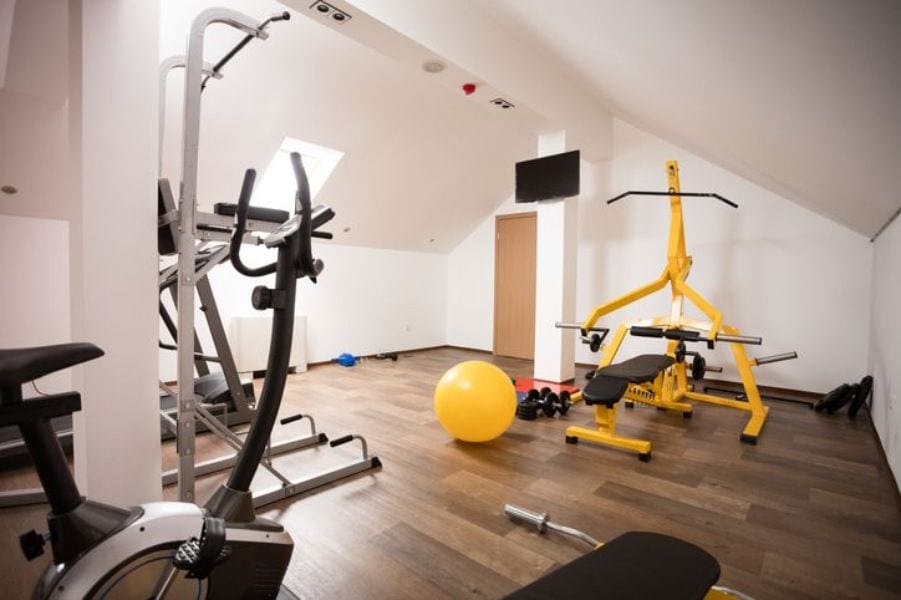 Fortunately, adding a home gym doesn't have to be a major renovation project. "A finished basement or spare bedroom will do the trick," DiClerico says. "Just make sure there will be enough clearance around and above the exercise equipment. Clearance requirements vary by machine but, in the case of treadmills, you generally want at least 6 ½ feet of free space at the back of the machine and 1 ½ feet at either side."
If you don't have an existing space, DiClerico recommends finishing the basement. "The average cost for finishing a basement ranges from $6,500 to $18,500," DiClerico says. If you stick to the basics – hanging and painting drywall and installing plywood floors – he says you can control some of the costs. "But for the best workout experience, you'll want good lighting, ventilation and audio/visuals, all of which will drive up the cost," he explains.
If you're setting up your home gym to have a power rack, it's going to take up a lot of space, according to Shawn Breyer, owner of Atlanta, Georgia-based Breyer Home Buyers. "Power Racks allow you to set the bar's height at any level, allowing you to perform bench presses, squats, shoulder presses, etcetera." He recommends a wall mount power rack.  "When not in use, they fold up and stick out five inches from the wall, allowing you to have your gym and your cars in your garage."
Flooring considerations
If you plan on using weights in your home gym, it's also important to make sure that they're evenly dispersed across your flooring joist. "You don't want to load up a dumbbell rack that happens to be in between two floor joists," Breyer explains. "A 12-by-36-inch piece of 3/4-inch fir plywood can support up to 50 pounds without problems – but the average two-tiered dumbbell rack weighs 705 lbs." Over time, Breyer says that either the plywood is going to warp or it's going to collapse under the load.
Breyer also recommends using rubber mats. "No matter what equipment, weights or workouts you throw at them, they can handle it," he says. "Other benefits are that they're easy to clean and provide great sound insulation – and that makes for a happy spouse."
"Whether you're setting up your gym in your garage or the spare room, if you are performing Olympic lifts such as power cleans and deadlifts, you need to have an Olympic platform," advises Breyer. "Dropping weights can bust concrete and plywood, costing you hundreds or even thousands to repair the damages." That's one to ruin your hardwood floors. However, you can purchase an Olympic platform or, if you're DIY-inclined, Breyer recommends building your own.
Resale considerations
When deciding on the layout of your gym, consider how it will affect your home's resale value. "If you have modified the house in any way, you'll want to make the necessary repairs and changes prior to relisting your home," Breyer advises. "And you need to put your gym equipment into storage." That's because home buyers like to picture themselves in your home. "If exercise is not a part of their lifestyle, a room full of gym equipment is going to decrease the chances that they will fall in love with your home and want to buy it," he explains.
Equipment considerations
Exercise physiologist, celebrity trainer and Nautilus, Inc. fitness advisor Tom Holland is host of the weekly Bowflex live stream "Breakfast Club." According to Holland, your equipment is the key to a successful workout. "First and foremost, consumers must take time to select equipment that they are most likely to use on a consistent basis, especially cardiovascular equipment," he tells Freshome. "While price is often a factor for most people, paying a little more on equipment that you will utilize is a much smarter decision than spending less on a piece that will sit unused."
Holland recommends the following three pieces of equipment:
"The Bowflex SelectTech 560 dumbbells are the first-ever smart dumbbells that offer a fully interactive workout experience with a Bluetooth 3DT sensor and SelectTech app coaching you through your workout, allowing you to save time by working out at home and reducing the number of separate dumbbells from 32 down to only two," Holland says.
"The Bowflex Lateral X is a unique cardio trainer designed to provide a full-body workout and move in three dimensions: side-to-side, push-and-pull and stand-and-squat," Holland says. "These motions mimic real-life movements like yardwork, housecleaning and playing with your kids, which can help strengthen those otherwise-neglected muscles."
"The Modern Movement is a line of balance, core and strength training products that feature the revolutionary M-Trac app, which allows users to measure improvement in balance and agility or utilize a digital personal trainer to guide them through their workout," Holland says. "Both the Edge-Board Core Strength Trainer and M-Pad Balance & Strength Trainer are easy to store and if you're short on space, they're perfect for tackling core strength exercises from anywhere in your home."